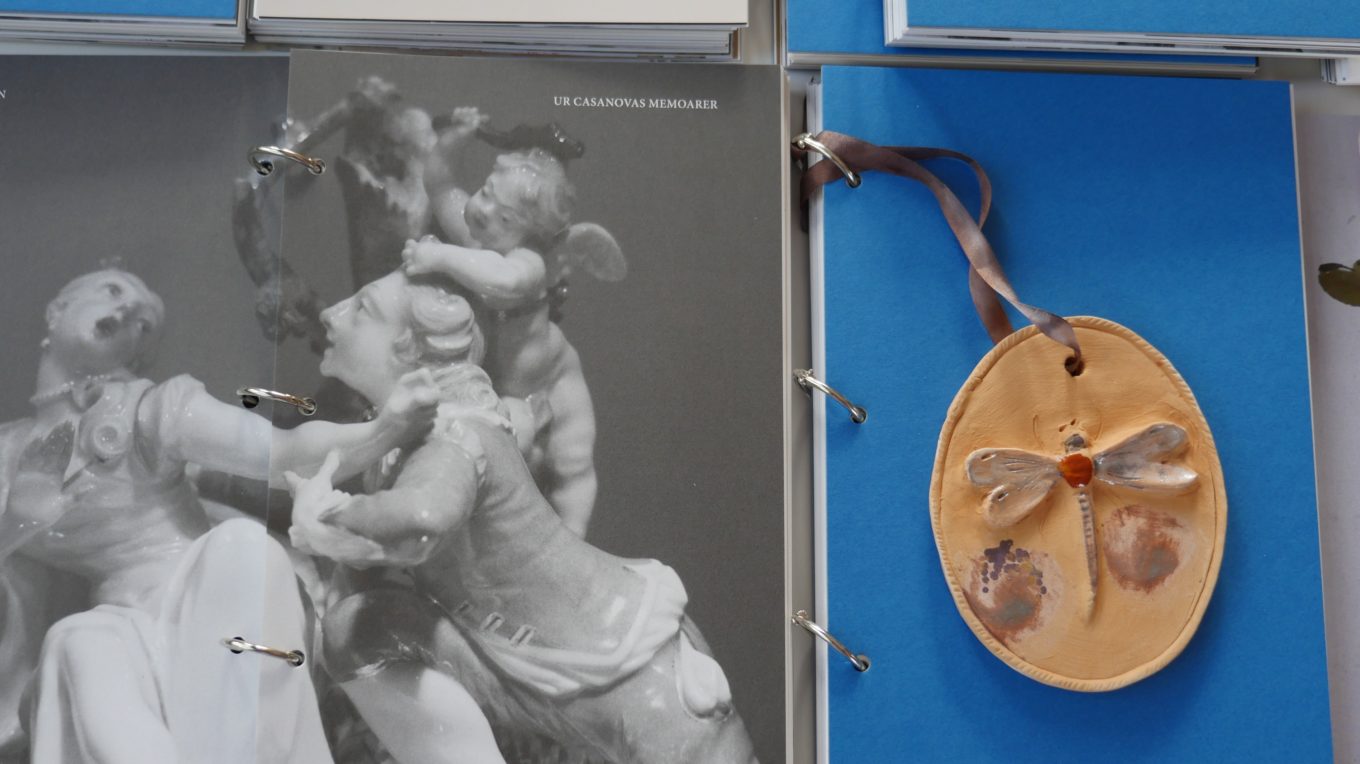 Book launch Päivi Ernkvist
Welcome to this book launch and mini-exhibition by Päivi Ernkvist 30/10-2/11! The Venetian adventurer and author Giacomo Casanova's talent and versatility were enormous. A little known fact is that he, among other things, started a silk weaving business in Lyon, which under the direction of others then grew to 400 small and large silk weavers. But by then, Casanova's troubled spirit had already found other countries and focus of his creativity.
Päivi and Anders Ernkvist have made a selection and translated excerpts and fragments from Casanova's Memoirs. Each book is individually crafted into a limited edition of one hundred copies and each has its own ceramic seal. Päivi Ernkvist will be presenting the Magic Box and the book "Med kärlekens ögon" in a mini-exhibition and book launch, a project realised together with graphic designer Lisa Olausson. The book's color images are details of the hand-painted wallpapers from Drottningholm Castle Theatre.
The original manuscript of Casanova's autobiography Histoire de ma vie in 12 volumes and 3500 pages was saved from the Leipzig bombings in 1943 and kept in silence by the publisher Brockhaus in Wiesbaden. Thanks to the help of a donor, the Bibliothèque national de France in February 2010 was able to make its most expensive acquisition ever. A literary sensation.
Päivi Ernkvist is a ceramicist, an artist, a project manager for Stockholm Konst and is represented at the National Museum and the Röhsska Museum, among others.
Welcome to the two talks about the book "Med kärlekens ögon", where Päivi and Anders Ernkvist talk about the hand-crafted book's background, design and content.
Opening talk  30.10
Why Casanova?
18:00-19:00
Closing talk 2.11
Casanova's magical world
14:00-15:00
The talks will be in Swedish.
Welcome!
Opening hours:
onsdag 12-20
torsdag – fredag   12-18
lördag 12-16